Focusing on managing Texas wildlife habitat and natural resources for native and exotic wild game species, for this and future generation of hunters and outdoor enthusiasts.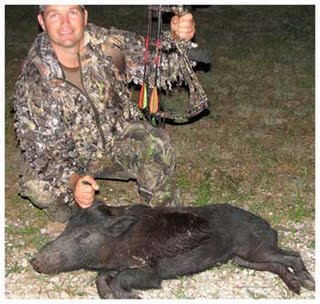 The evening hunt started out pretty slow with only a few animals moving due to the heat and humidity, and, in part, to the recent rain. I was perched in my bow stand in an old oak tree about 15 feet off the ground. The stand itself is situated between two canyons. One of my favorite hunting places on the ranch. I was ready to shoot a
wild hog
or a young
aoudad sheep
if they were willing to cross my path. As the late evening progressed, I spied on several young
whitetail bucks
that were just passing through looking for place to graze. The
whitetail buck
population with the abundant rains and supplemental year-round feed looks especially strong this year at
Escondido Ranch
.
It was about 7:00 P.M. when my first potential prey decided to show itself. First, two
Aoudad sheep
, each with about 20 inches of horn, peeked out from the brush. Not trophy class, but not good eating size either. Aoudad sheep taste better when they are harvested at a younger age. Twelve inches of horn or less is a good reference length for
eating purposes
. With that in mind I decided to pass. Just a few moments later,
two wild hogs
surfaced along the brush line. I got into position and waited for the hogs to clear from behind an overhanging tree limb blocking my shooting lane. As the hog moved into a clearing, I became a bit anxious due to the amount of time I had to think about my shot. As I drew my bow to full draw, I set my 20 yard pin sight on the vital organs of the larger of the
two wild boars
. In a fleeing moment, my arrow screamed through the humid
south Texas
air and hit the boar on the side, passing through and leaving an exit hole the size of a golf ball. I did it!! The hog ran immediately into the brush and expired briefly thereafter. Well thanks for reading and check out
EscondidoRanch.com
for all your hunting wants and desires.
Labels: bow hunting, texas boar hunting, texas feral hog hunts, wild hog hunting
It was a Saturday morning at
Escondido Ranch
in late June when the piercing broadhead on an Easton arrow came scorching out of my latest Christmas present. I was hunting for only the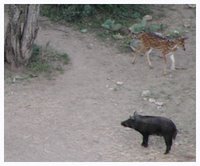 second time with my Mathews 'Reezen' bow I had received from my father-in-law. I had shot the bow hundreds of times at still and 3-D targets but this was my
first live stalk
and proved to be a successful one.
I had stayed up late Friday evening with my good buddy and recent brother-in-law Cody Moore to catch up on lost time. When Saturday morning rolled around I was a little tardy getting out of bed. As I strolled into the kitchen around 7am I noticed that my father-in-law was out on the front porch glassing some animals by the river and the surrounding feeders. He motioned to Cody and I and we joined him quickly on the porch. To my surprise there were two
large black feral hogs
coming into a feeder from the river below. I immediately turned to Cody and said "let's sneak down there and try to get a shot." Of course he agreed and we proceeded down the switchback and planned our attack. Stalking animals during a hunt is such a sweet experience, but,
stalking large feral hogs
is one of my favorite aspects of hunting at
Escondido Ranch
.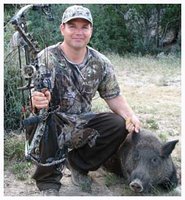 We knew we had a good chance at getting at least one of them because we had two things definitely in our favor. The first being that the
hogs
were hungry and were preoccupied with
trying to get into the feeding area and second, the wind was blowing due south, straight into our faces. This allowed us to move quietly through the mesquite filled brush and approach the
animals to
within 40 yards
. With every step my heart was pounding faster and faster. I knew this was going to be my first attempt at shooting an animal with my new bow and I wanted to make a good shot because if I missed I would never hear the end of it, especially from my rifle slinging, hunting buddy Gary. I took a couple of more big steps to get to
within 30 yards of my target
. I steadied my position, drew the bow to breakover position, zeroed in on my target and let it fly... The next sound I heard was the
squealing of a hog
that was paralyzed with the shot. I did it!! I successfully stalked and killed my first animal with my new weapon of choice. Congratulations followed from my good buddy Cody and all of our family members. What an adrenaline rush!!!! Whether you are a
rifle hunter or bow hunter
like myself, the folks at
Escondido Ranch
can accommodate all or your hunting needs. Thanks for reading and God bless.
Labels: bow hunting, feral hog hunting, south texas hunting ranch