Escondido Ranch is located one hundred miles west of San Antonio near Interstate 10, eight miles southeast of the city of Junction in Kimble County, Texas. The surface of Escondido Ranch on the east has steep limestone hills cut by many canyons, while on the west the ranch is cut by the north-south flowing Johnson Fork of the Llano River. In this semi-arid climate, the river and springs attracted wildlife and man.
About 10,000 years ago Paleo-Indians camped on Escondido Ranch leaving stone tools and Indian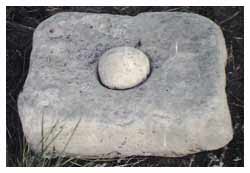 mounds. During the 1600's and 1700's the Towankawa Indians lived in this area. In the early 1700's the powerful Comanches pushed the Towankawa Indians out of central Texas.
The Comanche Indians migrated down from Wyoming to be closer to the Spanish so as to steal cattle and horses from them in Mexico and New Mexico. With horses, they became lords of the southern plains. With horses the Comanches followed and hunted the buffalo herds, they also collected grapes, tunas of the prickly pears and nuts. The tribe of Comanches that lived in the area of Escondido Ranch were called Penalekas, or Honey Eaters. Still today we find on Escondido Ranch artifacts in the form of stone arrowheads, spear points, grinding stones and painted rocks
The first white man to live on the ranch went by the name of Wiley Joy. Wiley Joy was from Tennessee and he and his wife took a wagon train to Texas and settled on the Johnson Fork with their family. His daughter, Alwida married a man named Lafe McDonald. While Lafe was fighting in the civil war, Alwida and her mother rode fifty miles to the closest post office in Fredericksburg to pick up a letter from Lafe. While returning home to the Johnson Fork they were ambushed and killed by Comanches near Harper. Wiley Joy, who spent eight years as an Indian captive when he was a child, was so enraged by the killing of his wife and daughter he hunted and fought the Indians for the rest of his life. When Wiley was not hunting the Indians he and his son would bear hunt up and down the side canyons of the Johnson Fork, naming them after their hunting memories. For example, where Wiley's dog was killed is now named Red's hole and Graybranch creek is where a bear swiped Gray his horse with its paw.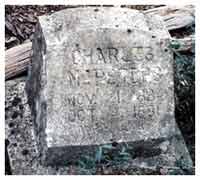 After the civil war, Wiley, his sons, Matthew Taylor and family formed the Joy Creek Colony. They irrigated with spring water to grow crops, like sugar cane in the valley. During this time Indians were continuing to steal horses and other items and after a year Matthew Taylor and his family moved out of the colony but other families moved in. The colony was used as a stage coach stop and old wagon wheels have been uncovered. The Joy family lived there until 1880 when they sold the land to Peter Rambold. Even today you can clearly see the stone walls from the Joy Creek Colony.
John Joy, one of Wiley's sons, had a daughter named, Helen whom married William Eugene "Gene" Craft. Helen and William Eugene "Gene" Craft married on January 8, 1889. They had one child Zeno Craft born on January 13, 1889. It was a shot gun wedding, as Zeno was already 5 days old when Helen and Wiley were married and they weren't married for long due to "Gene" Craft's abusive behavior.

Tibbie Craft (born in January 1866) was the sister of Wiley Eugene "Gene" Craft (born in 1875). They were both the children of James Wiley Craft and Cordelia Hemphill. Tibbie Craft married W.G. Moos who started a ranch next to the Craft ranch, north of the Joy Creek Colony. W.G. Moos and Tibbie Craft were married December 25, 1888. They combined the Craft ranch with the Moos ranch, parts of which are Escondido Ranch today. Remnants of their homestead still remain to be viewed. Bill and Tibbie had one son named Craft. Craft married Myrtle Good in 1926. Myrtle and Craft both liked to fish and spent most of their lives on the Johnson Fork. Craft was known for his fiddle playing and could be heard throughout the valley. Myrtle died in 1965 and Craft sold the ranch to George and Lola Gibson that same year. The Gibson's cared for Craft until he died in 1973. The Gibsons lived on the ranch for twenty years and sold it to the current owners today.
For your next hunting adventure, family vacation or a corporate retreat, bring your entire family, friends and business associates to Escondido Ranch.