Hunting Tips, Questions, Stories & Discussion
Focusing on managing Texas wildlife habitat and natural resources for native and exotic wild game species, for this and future generation of hunters and outdoor enthusiasts.
Wednesday, February 4, 2009
Is there any time that wild game hunting isn't allowed in Texas?
Depending on the species you are after there may or may not be a season in which you are able to hunt. Native species such as
Whitetail deer
,
bull Elk
and
Rio Grande Tom Turkeys
do have
seasonal hunts
that are controlled by the state. All other species on the ranch are open for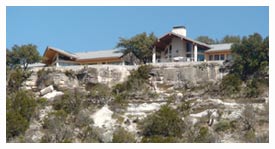 hunting year round.
Weather in Texas is seasonably warm all year round so even January and February hunting can be done in temperatures of 50 degrees plus. This makes a nice change for hunters from other states that are dealing with below freezing temperatures.
How can I tell if there are wild game hunting times open at Escondido Ranch?
The website offers an interactive type of calendar system that is updated to clearly show the times that are not already booked on the ranch.
If you aren't comfortable using the website to check for available wild game hunting times, contact the office by phone or email to book your hunting block.
Labels: escondido hunting ranch, guided hunts, south texas hunting ranch, texas hunting ranches
Thursday, January 22, 2009
Is it possible tell how old the hog you shoot is when Texas trophy boar hunting?
Looking at the
Russian boar
or
feral hogs
jaw can help you come very close to deciding how old the hog or boar is. You can also tell if the hog has any
European boar
heritage by examining the area of the jaw between the tusk and the regular molar teeth. If there is a small isolated tooth in the middle, there is some European breed in the background of the hog. This is not at all uncommon in Texas where Russian boars and even domestic European swine breeds have bred with the
wild hog populations
.
A
feral hog
that is under 2 years of age will have three adjacent teeth at the back of the lower jaw. There will be two smaller teeth in front and a molar looking tooth at the back. After two years of age there will be an additional molar that pops up at the back of the lower jaw, giving a total of four teeth. Despite common theories that you can use tusks to age a
Texas trophy boar
that is not a accurate means to age an animal.
Until the age of three the two smaller teeth in this group of four will gradually be replaced by thicker, heavier, molar like teeth, very different than the previous teeth that looked a bit like canine teeth. At years three and four additional molars appear, so at the end of the
wild hog's
fourth year he will have six teeth at the back of the jaw.

At the fifth year the final tooth will be fully showing and the teeth will start to show wear and grinding down. After the fifth year is possible to tell the approximate age based on the amount of wear of all the teeth, but this is really just an educated estimate.
Labels: feral hog hunting, guided hunts, russian boar hunt, wild boar hunts
Archives
December 2008 January 2009 February 2009 April 2009 May 2009 June 2009 July 2009 August 2009 September 2009 November 2009 December 2009 January 2010 February 2010 March 2010 April 2010
Subscribe to Posts [Atom]