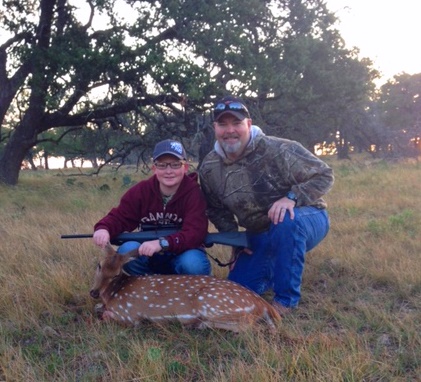 There is a saying that I heard once that I love...Take your boy hunting and you won't have to hunt for your boy. Prior to a career in the Army, I grew up just in that way. I hunted and fished with my entire family, Mom included and we enjoyed countless hours in the outdoors. I am still great friends with my parents and my brother as a result. I''ve tried to do the same with my son. As I neared the end of a 20+ year Army career, I started looking forward to settling into a more stable way of life, which included finding ways to take my son hunting and fishing.
We spent a weekend at a hunting ranch in Kerrville and the idea was to simply shoot a couple of exotic does for both the experience, and for some meat in the freezer. We thought it would be a fairly simple spot and stock from the ranch's side-by-side hunting vehicle. It turned out to be a great adventure. The exotics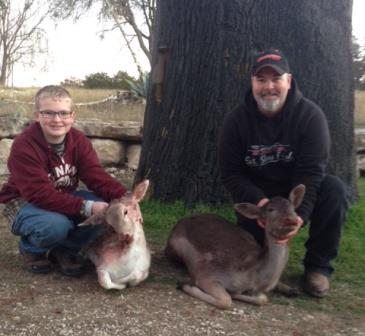 on this particular ranch were very smart and not so easy to just drive up to and shoot. In order to finally get into position for a good, humane shot, we had to get off the rig and stalk the deer by foot. After almost two solid days of chasing deer around this ranch, he was presented with a 125 yard shot from the aid of using a shooting stick.
At only 12 years old, he didn't have much experience upping the level of difficulty this way. I was a little nervous for him, but his confidence would not waiver. He calmly adjusted the shooting sticks and mad a perfect shot that dropped the doe in her tracks. I managed to kill a doe a couple of hours later. What we took from the experience has nothing to do with whether or not we got to harvest trophy animals. The trophy was in the time we spent together driving and walking around the ranch, discussing the best ways to stalk the animals, preparing ourselves and our guns for the hunt, cooking a good meal in the evenings, enjoying a hot breakfast after a morning hunt, and sharing hunting adventures with the guides and other hunters.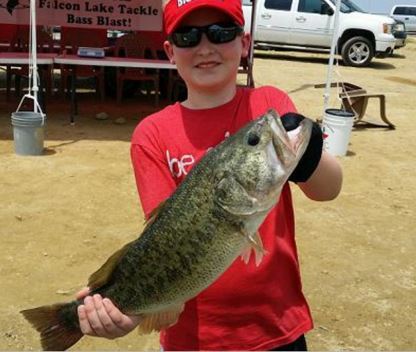 You see, my son is normally very shy and very much an academic superstar in school. But when he gets around the environment associated with hunting and hunters, he transforms into a little country kid and I see a lot of me in him when I was his age. We have shared a lot of outdoor adventures together which include other hunting stories and bass fishing. He caught a 7 pound largemouth during a fishing tournament at Lake Falcon and couldn''t wait until 3 pm to go weight her in.
I know that he and I will be friends for life and I am not going to have to worry about what bad things he is getting into simply because I have shared my love of the outdoors with him. I will not have to hunt for him; he will be right there with me as we continue to make memories hunting and fishing together.