Usually a father takes his son hunting in search of a deer, hog or turkey but in this situation, the roles were reversed. I have been hunting now for about 10 years on consistent bases and had the opportunity to harvest great game that most would consider trophy class.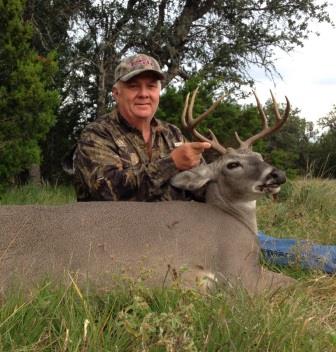 After several years of my father asking questions such as, "How do you "butcher" a deer, Do you really need that much scent control?" I decided to show him first hand and take him on his first hunting adventure.
A buddy of mine has acreage in the beautiful
Hill Country part of Texas
and he offered his place for us to hunt. So I flew my Dad in and headed west. He was as excited as a 7 year old on Christmas Day. Once we bought his license, all he could talk about was how he wasn't going to pass deer like the guys on TV seem to do and how much he can't wait to see a deer getting butchered.
Upon arriving to camp, we got settled in and loaded up the rifles to go on our first hunt. It was a first for both of us. My dad's first hunt and my first hunt that I wasn't pulling the trigger! The first evening, we saw several
whitetail does
and a 4-point. I was in charge of the rifle as my dad wanted to shoot every doe that presented a shot. He understood we were there for bucks only and only mature bucks. He was amazed to see that many deer on his first hunt.
The second morning, we were unloading the truck when my father stepped out of the truck with bag snacks in one hand and the rifle in the other, when all of a sudden I heard a loud thud. My dad misjudged the distance between the truck and ground and fell into a patch of cacti. He managed to keep the rifle off the ground so the scope did not get bumped off! He appeared to be perfectly fine, but several cactus stickers manage to stick into his back. I brushed him off and headed to the stand. Texas Hill Country has a way of reminding us that as beautiful as it looks, the land is still in control.
Roughly at 7:15am, a 7 point emerged in our line of sight. I knew my dad wanted him like an Eskimo wants ice cream on a mid-july day. His face lit up as he placed his gun on the rest. He waited for that perfect shot. As he was about to pull the trigger I noticed, an 8 point entering from the Mesquite trees. I told my dad to hold and find the 8 point in the scope. The 8 point stepped to the side opening up broadside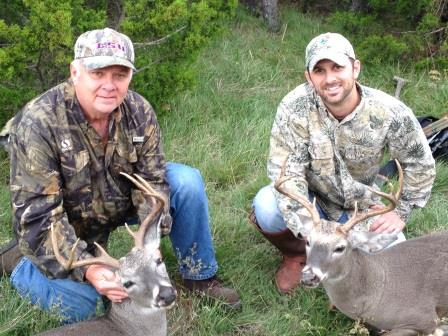 shot. My dad squeezed off and the deer drops! My dad pulls away from the gun and exclaims, "I dropped him! I killed him!" A proud moment for him and I! My dad has succeeded in his marksmanship and I couldn't have been more proud to share that special moment with my father. We high fived, hugged and high fived again. Then, my dad looks beside a cedar tree and notices the 7 point was still standing about 120 yards away, wondering what had just happened. I pick up my brand new, virgin Weathersby rifle, and found the deer in the scope as it quartered towards me,
I did not hesitate to pull the trigger and the.300 WinMag round pounded into his chest of the 7-poing buck, dropping him in his tracks!
The hugging and high fiving commences again. We get down admiring our harvest and of course, taking pictures.
The bucks we took may not have set records, instead made a lifelong memory and has become an annual hunt may father and I take once a year. The antlers are proudly displayed in our homes and every time I glance at them, I relive the memory of that hunt. This hunt proves that it is not the size, the shot or the class, but rather the unforgettable experience that a father and son shared on that fall day.
Oh...and my dad was able to see how to "butcher a deer".
Michael Van Dalen and Dad